// Testmionals
What guests say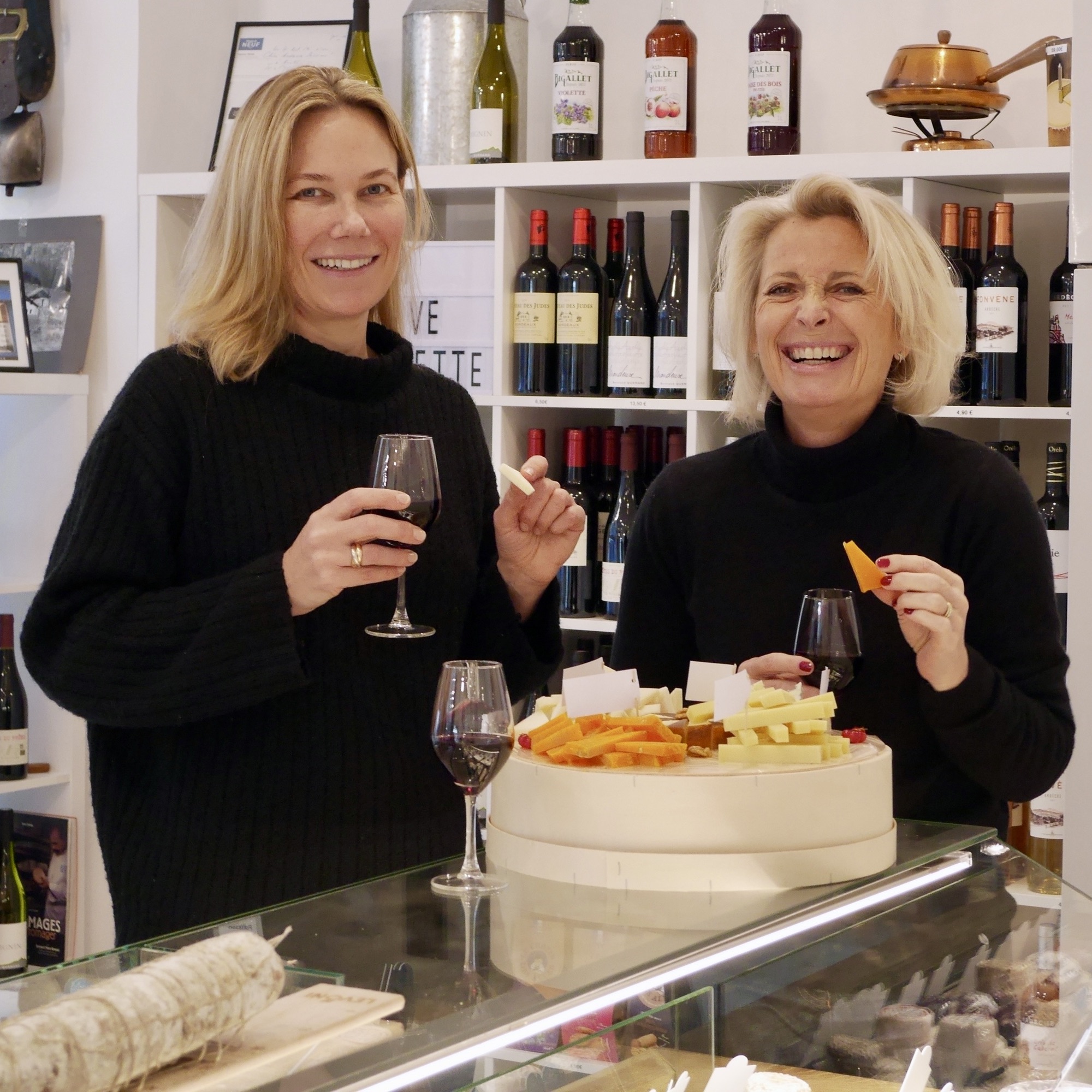 Your feedback means a lot to us
Don't hesitate to leave a few words and share your experience.
It's only been a few years that I've had to eat gluten-free, and was so excited to find this tour with Succulent Paris! I met Marion at Chambelland Boulangerie for some gluten-free treats and great conversation. We then ventured to a local outdoor market to learn more about French food and cooking, and sample a variety of cheeses and more (finished the rest at my hotel later that evening!). Many more stops along the way with delicious samplings including chocolate, tea and jam. There were a couple items I couldn't have due to potential cross-contamination with gluten, but know that you can ask those questions at each location. Being this was a private tour, it was great to have a one-on-one conversation with Marion, plus the shopkeepers we visited. The Marais is a fun neighborhood for this tour as well. I was able to visit the nearby Picasso Museum at the end of the tour, and cap off a wonderful day. I would definitely recommend this adventure whether or not you have to eat gluten-free! It was a very enjoyable experience with Marion (plus she provided a wrap-up document listing both the places we visited, and additional spots). Thank you!
Marion was amazing with our two children! She was patient, funny, informative, and made our Paris trip extra special with a true Parisian cooking session. We loved meeting her and felt like we had been lifelong friends!
We loved our gourmet tour with aurelie – it covered the range of all sorts of french delicacies while also being a relaxed conversational experience. it was definitely a highlight for us during our honeymoon and would recommend succulent paris to our friends. merci beaucoup!
Our cooking class with aurelie at succulent Paris was one of the highlights of our trip. She was delightful, so organized and precise in her teaching. At the same time she made it fun. I was with my twin 12-year-old granddaughters and they enjoyed it every bit as much as I did. I would recommend it to both adults and children. I made the macaroons a few days ago at home and was absolutely thrilled that they turned out and were delicious. I'll look forward to doing it again with my grandchildren next time .It's a excellent addition to any parisian itinerary and a pleasant change from museums.
We enjoyed a fabulous time with Marion while we were in paris. We began with meeting Marion at a local cafe for coffee and then she escorted us on a tour of a gourmet market in the 17th arrondissement. It was so informative, and it was obvious that she knew the market well. We purchased all of the fruits, vegetables, meats, cheeses and breads and then went to the apartment where we prepared a fabulous meal. We had a wonderful morning together visiting, learning more about french food and cooking techniques. We then sat down together to enjoy champagne, comte gougeres, cheeses and cured meats followed by a fabulous chicken dish, typical french salad and dessert. She gave us other tips about sites to see and places to eat while we were in paris. We left with the recipes, knowledge and great memories. We highly recommend them! We definitely plan to contact them again on our next trip to paris!
We had an amazing baking class that was really the pinnacle of our trip to Paris! My daughter (13) and I were delighted. Marion was an amazing hostess and we even managed to bring some madeleines home! A highly recommended and unique experience!
I was so lucky to meet the work of Marion and Aurelie, because the classes were sensational and very productive. There is nothing better than learning from a true Parisian and learning all his culinary tricks and techniques. I learned a lot in my Choux class, and I have reproduced everything they taught me and it went perfectly as in the classroom. Surely next time in Paris I'll schedule another class, because they're great! I loved that classes where at Aurelie's kitchen, because it makes us more comfortable. I highly recommend their work and their classes,Thanks, girls!
Our tour with Aurelie was fantastic. She was exceptionally knowledgeable and great company. We loved all of treats we tasted and very much enjoyed getting a chance to see the non commercial neighborhoods of paris. Thank goodness it was a walking tour as that allowed us to consume more treats. We highly recommend this tour and Aurelie…you won't be disappointed.
We have been to Paris several times and we're looking to explore a new area. This tour was perfect for us because it combined two of our favorite food groups and a new area of the city. Marion led us through the 17th arrondissement, brought us to numerous shops, gave us the history of the shop, and samples of the specialty of that particular shop. She answered all of our numerous questions. We enjoyed the area so much we went back on two other occasions during our stay.
We so enjoyed our time with You Marion, Exploring the markets and speciality shops in the 17th . It was such a wonderful opportunity to understand Parisienne life and tastes. It was a definite highlight of our European trip. The salami sample we took from Cochon'eye Charcuterie proved to be very useful when we rediscovered it in A's pocket on the way to the airport in the afternoon. We hadn't had time for lunch nor did we feel like lunch until then anyway – we sampled so much delicious food on the tour, it was fantastic but very filling. There should be a warning not to eat before your tours! The bun we took from the bakery at the end of our tour was also consumed on the trip to the airport – it was delicious dessert after the sausage 🙂 I cannot recommend this tour highly enough – it felt like being with a friend and experiencing the « real » Paris!
Our food tour was one of the highlights of our trip. Marion was fabulous! She was super friendly, knowledgeable and lovely. I was there with my boyfriend for my 50th birthday. We toured the left bank and the saint Germain district. We first ate the most incredible dessert cake that tasted like heaven, then moved on to these petite sandwiches that tasted like nothing I have ever had. We next visited a bread bakery that is so popular they ship all over the world. I had a croissant there that literally melted in my mouth and bread like nothing else I have ever had. We devoured goat cheese that was soft and decadent, visited the store where caramel was created and tasted like nothing I have ever had, and went olive oil tasting. Amazing! We also tried a variety of macaroons and the best part was visiting a hidden room underneath a cheese store. It was a cellar made of stone where we tasted different cheeses and wines. Such a unique, Parisian experience. Marion's experience and expertise of all these foods, stores and more was more than we could ever expect and imagine. We can't recommend Marion and her company enough. And the bonus was her sending us her special crepe recipe. Absolutely the best!
Our family enjoyed a fabulous food tour guided by Aurelie. She made the tour very personable and every stop had its own story with an opportunity to try a variety of paris' delicacies. She was spot on with all of her recommendations. Our final stop was a wine and cheese tasting in her beautiful home. What a memorable experience!
I've been to Paris quite a few times but only for short time touristy stays. So this time I really wanted to have a special experience where I could do as the Parisians do. Talking and exploring a typical French bakery as well as cooking with Marion was just what I needed. We spent the afternoon making quiche lorraine which we (Marion, Aurelie and I) enjoyed for a typical French lunch, speaking in French in a Parisian apartment and eating French cuisine. We also made caramel moelleux for dessert which I took home to share with my husband and his parents. I won my father in law over 100%. I have returned to Australia now and have made caramel moelleux here and it is just as fabulous as how I made it in Paris. It was wonderful that all the recipes that were available could be made upon returning home. I highly recommend the bakery visit and cooking classes to anyone interested in cuisine. What a truly Parisian experience it was. Can't wait to go back for another foodie experience with Marion and Aurelie!
What an amazing way to experience Parisian culture and food in a great neighborhood away from most tourist activity. Marion was our guide and she is extremely knowledgable and friendly. We learned a lot about the food available to a typical Parisian and got to feast on some fabulous cheese, fresh bread, charcuterie, olives and the best macarons I had during our entire visit to France. We finished up the tour at a great little wine shop where we learned about the various wine producing regions in France. We got to taste some wine from all across the country while we finished up some more bread and charcuterie. I would highly recommend this tour to anybody interested in food, or simply interested in learning more about life in Paris.
Not sure why this macaron making class is so hard to find on Trip Advisor. My 15 year old son and I took the class and loved it! Neither of us could believe how well our macarons turned out! We also made delightful madeleines. Aurélie was a great instructor, and it was nice touch to have a class in someone's house in a residential neighborhood as opposed to the kitchen of a restaurant or bakery. She was also able to accommodate our gluten-free requirement. I recommend the class highly.
Book your food adventure
Get In Touch
If you want to learn more about our private cooking classes and tours, get a quote, check our availability or enjoy a tailor-made experience, send us an email and we will get back to you as soon as possible!